Welcome to the activating Electric Moon of the first year of the New Beam! Take a step out of linear time and into the radial time of fourth/fifth-dimensional navigation…
Continuing our deeper exploration of the 52 Heptad Paths of Hunab Ku 21, remember that not only does each week or heptad have its code, but each Moon also receives its own unique code according to the structure of the Hunab Ku 21 Galactic Tree of Life and Knowledge.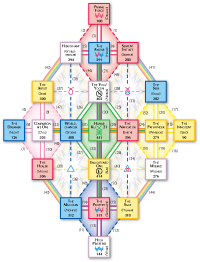 Electric Moon (Heptads 9-12)
Power of Love Evolves Power of Prophecy
Heptad 9: Art Awakens Love (

20-26 Sept

)
Heptad 10: Purification Transmits Love (

27 Sept - 3 Oct

)
Heptad 11: Spirit Evolves Magic (

4-10 Oct

)
Heptad 12: Spirit Evolves Wisdom (

11-17 Oct

)
Study the diagram of the 52 Heptad Paths of Hunab Ku 21 and the Hunab Ku 21 Galactic Tree of Life and Knowledge - you'll soon see the intrinsic, yet transcendent, logic of its codes!
To learn more about the 52 Heptad Paths See:
The Four Time Lenses of Hunab Ku 21

An additional layer to the codes of Hunab Ku 21 are the four "time lenses". Just as the 20(+1) galactic archetypes accommodate the cycle of the 20 Solar Seals, the 4 time lenses contain the 13 galactic tones.
All galactic tones are functions of these four time lenses. The frequency of the time lens determines the tonal value. The time lenses represent higher-dimensional time engineering creation devices that are encoded with harmonic orders based on fundamental powers of 9.
Each of the four types of time lenses is loaded with an archetypal design template by means of which the time beams focused through them can establish renewals of creation.
To learn more about the 4 Time Lenses see "Intergalactic Bulletin #9: Archetypes, Time Lenses and Telektonon Units"

Electric Moon Synchronicities
Dali 1 - Kin 220, Yellow Crystal Sun (

20 Sep

)
Today completes the 55th 4-day Harmonic of the Tzolkin/Galactic Spin: Crystal Matrix: Self-Regulate Universal Fire of Cooperation. Setting the tone for this whole moon with universalizing enlightenment through cooperation!
You can find a whole list of all 65 Harmonics in the Book of Kin or in the Star Traveler's 13 Moon Almanac of Synchronicity or in the Master Synchronic Code Book.
Seli 2 - Kin 221, Red Cosmic Dragon (21 Sep)
Transcending Being brings Day of Peace. UN International Day of Peace (let's extend it to every day).
Join the globally synchronized Peace Meditation!

Gamma 3 - Kin 222, White Magnetic Wind (22 Sep)
EQUINOX. Galactic Activation Portal - the first of three in this Moon... Today begins Wavespell 18: The White Wind Wavespell of Communicating Spirit. This 13-day cycle concludes on Kin 234, White Cosmic Wizard (Lunar 15 / Oct 4)
Crossing the Event Horizon in 432hz!!

Alpha 5 - Kin 224, Yellow Electric Seed (24 Sep)
Magic Turtle Day! Electric Seed reminds us to buy local, organic and support local farmers. Find a farmers market near you.
On this day in 622 the Prophet Muhammad completed his Hijra from Mecca to Medina. Psi Chrono Unit of today is 6 Mirror, kin of the disincarnation of Pacal Votan. Culture is indivisible, and religion is one…
Today also begins a 10-day cycle of the Hidden Knowledge of the Seventh Lord of Time: Single Wing Red Fire! The 10-day cycles become the basis of tracking the year in four quarters as the four attributes of divine disclosure: Knowledge, Light, Existence and Presence.
Learn more about these cycles with the free Mystery of the Stone Kit.
Seli 16 - Kin 235, Blue Magnetic Eagle (5 Oct)
Today is a New Moon and begins another 13-day wavespell: Wavespell 19, the Blue Eagle Wavespell of Vision. This 13-day cycle takes us all the way to the 28th day of this moon, concluding on Kin 247, Blue Cosmic Hand (Electric 28 / Oct 17)
Kali 18 - Kin 237, Red Electric Earth (7 Oct)
Magic Turtle Day! Electric Earth Evolves Synchronicity through Activating Service… 
Limi 20 - Kin 239, Blue Overtone Storm (9 Oct)
Today is the solar birthday of both John Lennon and Russian mystic and artist, Nicholas Roerich.

Excerpt from Book of the Initiation
Today Mercury will be at its greatest elongation, meaning that it is the best time to view Mercury!
Dali 22 - Kin 241, Red Resonant Dragon (11 Oct)
Third and final galactic activation portal of this Moon! The Psi Chrono Unit for today is Kin 55, Blue Electric Eagle - signature of the Harmonic Convergence of 1987. Learn more about the Psi Bank here.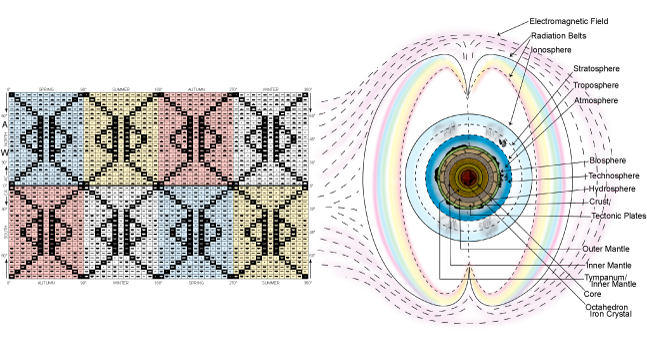 Silio 28 - Kin 247, Blue Cosmic Hand (17 Oct)
Psi Chrono Unit is Kin 218, White Planetary Mirror - the kin of when the tomb of Pacal Votan was discovered in 1952… At that time, although Palenque, and the Temple of Inscriptions, had been studied and excavated for over 200 years, the tomb itself was not discovered until 1952 when Alberto Ruz discovered a tile tube at the top of the Temple of Inscriptions…
Today is the Fully-Amplified Globally Synchronized Rainbow Bridge Meditation.