Continuing our One Moon = One Kin count which began in the Magnetic Moon of the Yellow Overtone Seed Year (1997), this Moon corresponds to Kin 236, Yellow Lunar Warrior:
I polarize in order to question
Stabilizing fearlessness
I seal the output of intelligence
With the lunar tone of challenge
I am guided by the power of elegance
(Click here to see all the Yellow Lunar Warrior on galacticSpacebook!)
Just as each daily kin has a fifth force oracle, so does the entire moon have a fifth force oracle. For this moon, the oracle is based on the Kin 236, Yellow Lunar Warrior: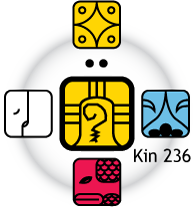 Kin 236, Yellow Lunar Warrior (SP Saturn) is supported by Kin 223, Blue Lunar Night (GK Saturn); Guided by the power of Kin 28, Yellow Lunar Star (GK Venus); Challenged by Kin 106, White Lunar Worldbridger (GK Mars) [galactic activation portal, and key to the tomb of Pacal Votan...]; and receives hidden/occult support from Kin 45, Red Crystal Serpent (GK Maldek).
This Moon, the fourth-dimensional planetary influences are Venus, Maldek, Mars and Saturn. In the Telektonon board, the orbits of Venus and Neptune together hold Circuit 2: the allied memory/instinct circuit; Maldek and Jupiter together hold Circuit 5: the internalizing intelligence circuit; and the orbits of Mars and Saturn hold Circuit 4: the externalizing intelligence circuit.
Book of the Transcendence describes these circuits as the following:
Allied memory/instinct circuit (2nd Circuit):


GK (Galactic-Karmic in-breath) - Cosmic memory/akashic access codes/power of total recall (Neptune/Red Dragon); Instinctual + innate aesthetic structures and skills (Venus/Yellow Star)


SP (Solar-Prophetic out-breath) - Supreme powers of cosmic samadhi (Neptune/White Mirror); Instinctual powers of innate cosmic magnetism (Venus/Blue Monkey).
Externalizing intelligence circuit (4rd Circuit)):


GK - Externalizing telepathic spiritual abundance potential (Saturn/Blue Night); Externalizing instinctual programs of order and dominance [*Needs repair] (Mars/White Worldbridger).


SP - Externalizing perceptual structures of intelligence (Saturn/Yellow Warrior); Externalizing innate prophetic perceptual structures [*Needs cultivating] (Mars/Red Skywalker).
Internalizing intelligence circuit (5th Circuit):


GK - Telepathic powers of authority (Jupiter/Yellow Seed); Internalizing instinctual life force programs (Maldek/Red Serpent).


SP - Visionary perceptual structures (Jupiter/Blue Eagle); Transcendent internalizing perceptual structures (Maldek/White Wizard).
*Note: The disrupted circuits represent the focalization of the karmic debris of all of the lost worlds as they are contained in the orbits of planets Maldek (the Asteroid Belt) and Mars. The repair of these circuits  is a major purpose of the codes of the Law of Time and 13 Moon calendar. The repair/activation of these circuits represents the Sun's attainment of its next stage of evolution, and entry into cosmic civilization.
Note the four powers of the four solar seals that hold these circuits:
Red Serpent - Sex/Life Force [Disrupted, needs repair]
White Worldbridger - Death [Disrupted, needs repair]
Red Skywalker - Prophecy/Space [Disrupted, needs cultivating]
White Wizard - Timelessness [Disrupted, needs to be activated]
See also the opening chapters to Accessing Your Multidimensional Self.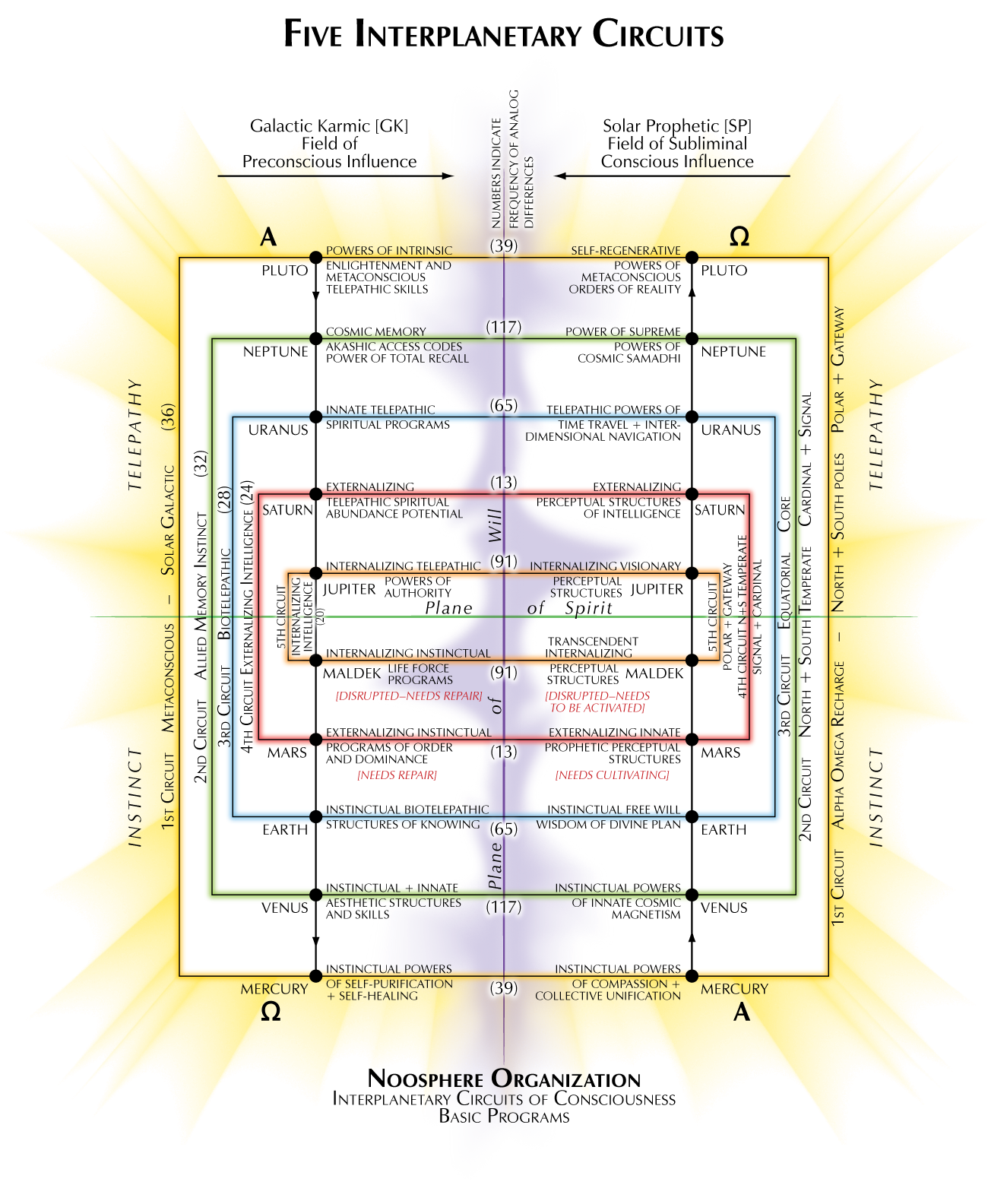 NOTE: Numbers in magenta indicate count of days in the 812 days to Solar Consciousness.
Also, this Moon we will link the Kin in the Star Traveler's Synchronicities to a list of all the people registered on galacticSpacebook.com whose signature is that Kin! If you feels so inspired, click the signature and wish them a happy galactic birthday!
Dali 1 - Kin 142, White Crystal Wind (23 Aug)

Day 374 of 812
Welcome to the Lunar Moon! This 28-day Moon has TWELVE galactic activation portals, comprising the sum total of the "Omega run" of 10 galactic activation portals in a row in the Tzolkin. See the Tzolkin graphic below. In the sixth and eighth columns each there are 10 of those kin that are galactic activation portals. The "Alpha run" of GAPs is from Kin 106-115; and the "Omega run" of GAPs is Kin 146-155. This Moon is also comprised of Days 374-401 of the 812-days to Solar Consciousness.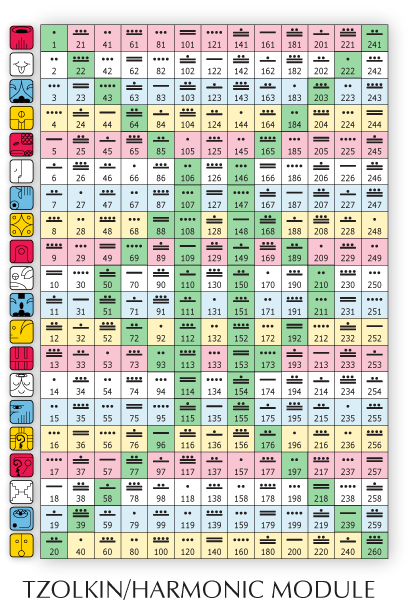 Gamma 3 - Kin 144, Yellow Magnetic Seed (25 Aug)

Day 376 of 812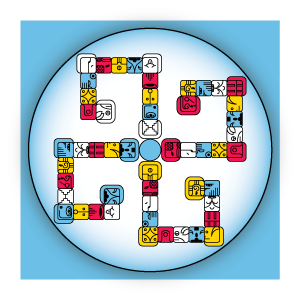 Today begins the 13-day Yellow Seed wavespell of Flowering, the fourth and final/RIPENING Wavespell of the 52-day Blue Western Castle of Burning, Court of Magic: Seed tribe ripens burning through power of flowering, truth of galactic Jupiter remembered.
This wavespell will end on Dali 15 of this Moon, Kin 156: Yellow Cosmic Warrior (6 Sept).
144 is a Key Number in numerous traditions: 144,000 elect from the Book of Revelations, the 144,000 nadis, the 144,000 engrams, fibonacci/phi mathematics, etc. The Harmonic Convergence of 1987 called for at least 144,000 Sundancers to greet the sun on the Dawn of August 16 and 17 of 1987.
Alpha 5 - Kin 146, White Electric Worldbridger (27 Aug)

Day 378 of 812
Today begins the 10-day "Omega run" of galactic activation portals. This will conclude on Silio 14 of this Moon, Kin 155: Blue Crystal Eagle (5 Sep).
Limi 13 - Kin 154, White Spectral Wizard (4 Sep)

Day 386 of 812
…The human species itself evolves into a race of wizard people whose third-dimensional bodies take root in a type of elementary garden culture, while forms of deep meditation and trance activity allow the projected doubles greater and greater extension into the galactic order of the universal life.
–Postulate 14.11, The 260 Postulates of the Dynamics of Time.
Seli 16 - Kin 157, Red Magnetic Earth (7 Sep)

Day 389 of 812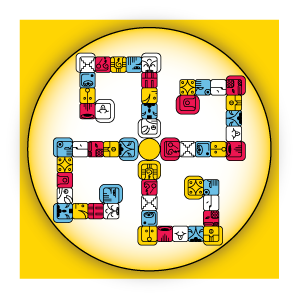 Today begins the 13-day Red Earth wavespell of Navigation, the first/initiating Wavespell of the 52-day Yellow Southern Castle of Giving, Court of Intelligence: Earth tribe initiates giving through power of navigation, truth of solar Uranus remembered.
This wavespell will end on Silio 28 of this Moon, Kin 169: Red Cosmic Moon (19 Sept).
Gamma 24 - Kin 165, Red Solar Serpent (15 Sept)

Day 397 of 812
Today is a galactic activation portal, day of solar initiation...
Limi 27 - Kin 168, Yellow Crystal Star (18 Sept)

Day 400 of 812
Today is a galactic activation portals, and the 400th day of the 812-days to Solar Consciousness... today is a day of the universal artist...
Silio 28 - Kin 169, Red Cosmic Moon (19 Sep)

Day 401 of 812
Today begins the 4-day event "Activating Synchronotron: Opening to a New Timespace" in Italy.

In the 52-week journey through the 52 heptad paths of the Hunab Ku 21 Galactic Tree and Life and Knowledge, the following heptad paths are activated for the Lunar Moon: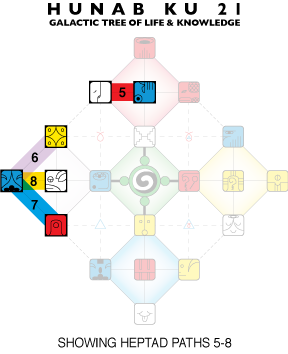 Red Week 1 - Initiate



Heptad 5: Death transmits Knowledge (Lunar Moon 1-7 / August 23-29)
White Week 2 - Refine



Heptad 6: Dreaming evolves Art (Lunar Moon 8-14 / August 30 - September 5)
Blue Week 3 - Transform



Heptad 7: Dreaming evolves Purification (Lunar Moon 15-21 / September 6-12)
Yellow Week 4 - Ripen



Heptad 8: Dreaming evolves Love (Lunar Moon 22-28 / September 13-19)
In the Galactic Superstructure/the Hunab Ku 21, the four heptads of the Lunar Moon - taken as a whole - are the place in time where "Knowledge evolves Power of Love" Learn more in Book of the Timespace, Cosmic History Chronicles Volume V.