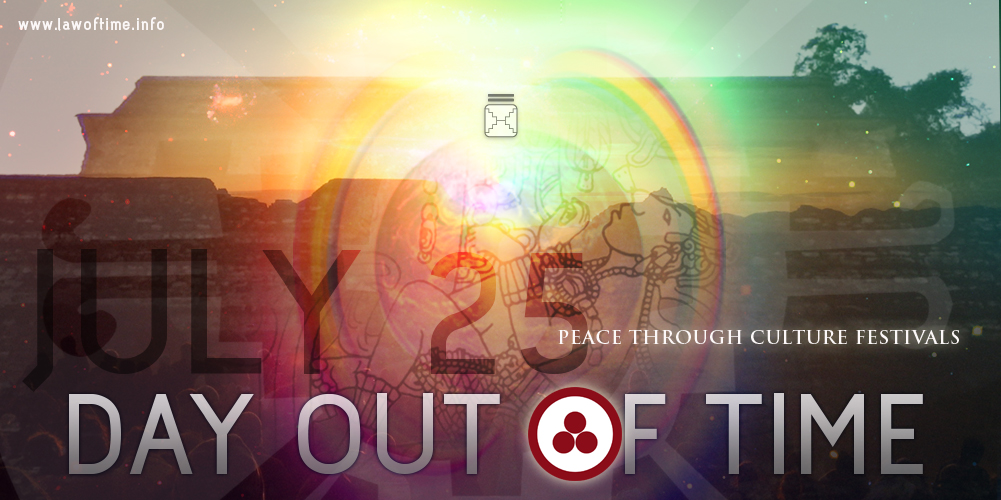 Day Out of Time 2016 is Coming!
The Day Out of Time is coming Soon! You are invited to create an event or meditation in your community on 25 July 2016, White Planetary Mirror, celebrating time as art, holding ceremonies of universal forgiveness and demonstrating peace through culture. This is the fourth year in the 7-year cycle from 2013-2020 of Opening the Seven Light Gates. This Day Out of Time we open the Fourth Light Gate! Join us for global synchronized meditations (more details coming soon).
GLOBAL WATER APPRECIATION DAY CEREMONIES
Dr. Masaru Emoto, the water messenger, was a strong supporter of the 13 Moon calendar, and created the Global Water Appreciation Day on July 25 to coincide with the annual Day Out of Time, Peace through Culture festival. Day out of Time festivals can be synchronized with Global Water Blessing ceremonies on behalf of the purification and healing of our Planet.
SYNCHRONIC NOTE
This Day Out of Time, White Planetary Mirror, is the day that coded the opening of the tomb of Pacal Votan (June 15, 1952).