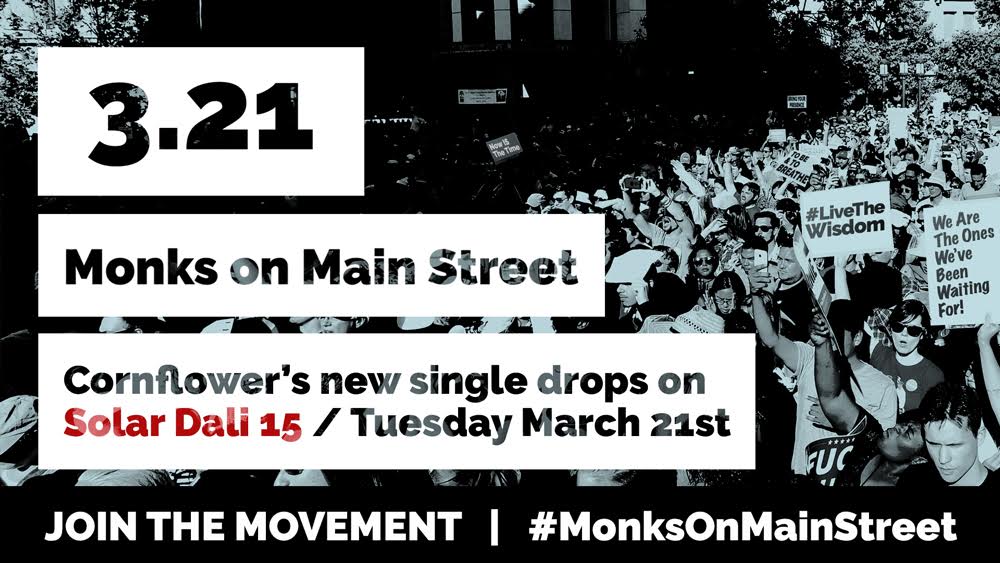 Monks on Main Street ~ Join the Movement!
Monks on Main Street is vibrational Soul Medicine that is so needed at this time! This Music of the Future reminds us that: Now is the Time to Live our Destiny! Magic! –Stephanie South, Creative Director, Foundation for the Law of Time
On Solar Dali 15 (Tuesday 3/21) a new song will be released to the world.
With the power of Dr. Martin Luther King, Jr.'s articulate opening invocation, Cornflower's new single "Monks on Main Street" is a call-to-action to "people of goodwill" to "bring your presence into the world" and become consciously active through our breath and awareness.
The intention of the song is to inspire those who hear it, to realize that they have the power to transform themselves and their world through their direct Presence. The song focuses on the importance of the individual's role in assisting the creation of a more conscious, harmonious and peaceful world, based on equal rights and equality for all. It encourages the listener to; stand up, show up and engage the important issues occurring on a personal, local, state, national and global level from a place of conscious breath, intention and peaceful action.
Cornflower is the Monkey Bioregion's premiere a capella-wizard taking vocal instrumentation to new heights with his Cosmic Soul Music. He has shared stages with the likes of Michael Franti & Spearhead, Bobby McFerrin, Victor Wooten, Mike Love, Indubious and Jai-Jagdeesh. With influences ranging from Michael Jackson to Björk, Cornflower blends genres creating uplifting sonic landscapes with his all-vocal live-looping lasagne!
"Monks on Main Street" is recorded using Cornflower's all-vocal arrangements with it's multi-part harmonies and swinging galactic funk instrumentation, it's potent lyricism calls the listener to their power with each passing verse that crescendos with its chill-bump inducing final chorus.
Join Thunderclap to amplify the music and message of "Monks on Main Street" so that it may be of the greatest benefit. Simply goto the link and choose your social media network of choice to automatically share the music and message to your friends & followers on release day! Go here to join the Thunderclap, now: http://thndr.me/eEGB2R
RSVP to the Event Listing on Facebook to stay informed on release updates and receive the link to the Single, watch the Lyric Video and join the movement when it launches on Dali 15 Red Lunar Earth (Tuesday 3/21). http://cflow.co/321-Monks-RSVP
Learn more about Cornflower & "Monks on Main Street" at www.monksonmainstreet.com!