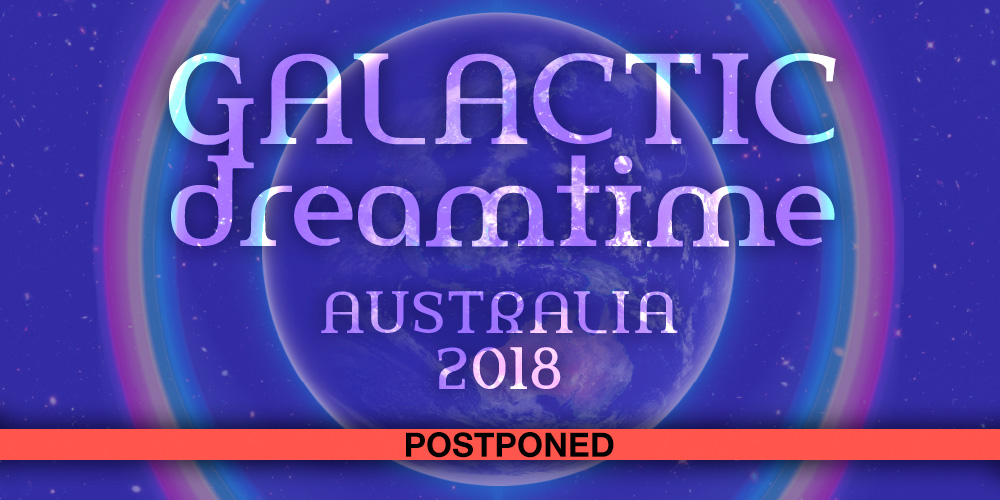 Galactic Dreamtime – Australia 2018
THIS EVENT HAS BEEN POSTPONED




Crystal Seed Year: Solar Moon 15-18, Kin 42-45 • March 21-24, 2018
Join us for a 4-day synchronic journey to commemorate the seven year anniversary of Jose Arguelles/Valum Votan's ascension. In these four days we will receive a whole systems upgrade as together we activate New Beam (inner) technologies. We will discuss the new context of the Law of Time in the accelerated world we are living in.
Full itinerary available soon.
Here are the details to assist with your travel plans.  It covers most things but feel free to contact us with any queries you may have.  Space is limited, so if you feel called to this event, please send an email.
Cost
US$ 390; A$ 520
This includes 4 days commencing afternoon Wednesday 21 March (Kin 42) and completing after lunch on Sunday 25 March 2018 (Kin 46). This cost includes attendance fee, two daily vegetarian meals and a camp space. (Hotel accommodations are also available nearby).
The payment of a deposit of US$200/A$300 will secure your place.
Please note:
This deposit is fully refundable up to Self Existing Moon 28, 2017 (November 14, 2017) (less transfer fees if applicable).
After this date the deposit will not be refunded if you cancel.
The balance of US$190/A$220 is due 31st January 2018.
Payments methods available
Brazilian attendees will be able to deposit equivalent R$ in Brazil; A$520=R$1300; deposit A$300=R$750.
Contact Giane for details please.
Australian and New Zealand attendees via direct credit to Australian Account ………full attendance A$520 or deposit A$300.
American and other attendees in US$ or A$ via direct credit to the Australian Account … full attendance US$390/A$520 or deposit US$200/A$300; or use Donate to Foundation on their website via Paypal use code in additional notes "Gathering Australia 2018".
Paypal: donations@lawoftime.org

Pay Online: www.lawoftime.org – press Purple donate button on Main Menu …. in additional notes use code "Gathering Australia 2018".
Australian Account Details:
Bank: National Australia Bank;
Branch (BSB) Creswick: 083-355; Account Number: 19-582-5706
Bank Swift Code: NATAAU3303M
Name of Account: LCS Australia;
Beneficiary Address: 20 Quicks Lane, Creswick, VICTORIA  3363 Australia
Attendance
The number attending has been set at 52 due to facility restrictions.  Your payment is your confirmation to attend and assures you of a space and allocation to attend will be on a first come basis; once the 52 people is reached, a waiting list will be established.
Food
The food provided will be vegetarian and organic where possible.  Two meals will be provided per day.  We're still assessing food options but as things currently stand, breakfast will consist of fresh fruit, yogurt and cereal.  The main meal of the day, to be served between 4-5pm, will be catered.  Coffee and a small selection of teas will also be available.  You may wish to bring your own snacks or any other special dietary requirements.
Accommodation
The event will be on 20 acres (8 hectacres) of bush land with plenty of space for you to camp.  We welcome your love and energy on this land (Alegria) and we will do our best to create the most comfortable camping experience for you. We have ordered a 9m x 6m marque, which will provide a beautiful group meditation space.  Building is already underway for the timber decking; the foundation for the marque.  We are also in the process of erecting a large sheltered area in case of rain.
We will have two showers and four toilets in the camping area.  With the toilet and shower facilities we ask for your consciousness around water usage as we are totally dependent upon rainwater here.
We ask that you please provide your own tent, sleeping bag and eating utensils (plate, bowl, cup, knife, fork, spoon).
There is also the option of nearby hotels. Please contact Ishram to provide further details.
Getting Here
Contact Ishram and Giane (addresses below) for detailed directions and travel options.
What to Bring
It will be autumn at the time of your visit.  The days are usually mild and sunny but the nights can be quite cool.  Temperatures usually range from 4 C to 18 C in Creswick so pack something warm for those cool nights. Melbourne is known for 4 seasons in one day!
Tent (maybe share with other travelers from the same country)
Air Mattress (if possible)
Pillow
Sleeping Bag
Water bottle for personal use
Camp Utensils – plate, bowl, cup, knife, fork, spoon
Comfortable clothing – include something warm for the cooler nights
Toiletries and personal items
Towel
Torch
Journal
Ceremonial attire VV ceremony
We have included a few photos of Alegria of the last gathering in 2012 for your information.